West Palm Beach Real Estate Market Update
Tammy Chantall, Licensed Real Estate Agent/Property Manager, explains the changes we have been experiencing in the area over the last twelve months in her
West Palm Beach Real Estate Market Update
.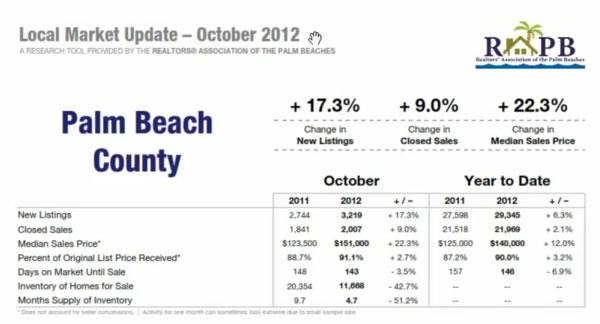 Median Sales Price
For current sales market data on any city in Palm Beach County, call Tammy at (561) 693-4974 or email her at tammy@624home.com The change in the median sales price has increased 22.3% from twelve months ago. This is a significant increase, and it shows that home prices are appreciating on a county-wide basis. This is great news! Steady increases in home prices are helping drive a modest recovery in the housing market. Steadily rising values may cause those potential home buyers that were sitting on the fence waiting for the best deal to spur into action and make a purchase. The Standard & Poor's/Case-Shiller home-price index shows a 0.3 percent uptick in prices for 20 major American cities. That's the sixth consecutive month of price gains, and eighth straight month of a hike for single-family homes. The fact that this trend is continuing into the traditionally slower Fall months is good news. "With six months of consistently rising home prices, it is safe to say that we are now in the midst of a recovery in the housing market," David Blitzer, chairman of the index committee at S&P Dow Jones Indices.
Supply of Inventory
Normally a six month supply of inventory would be considered average. As you can see on the chart above, one year ago we had over a nine month supply of inventory available. By October 2012, we were seeing that number drop down to 4.7 months worth of inventory. This tells us that houses are moving on and off the market significantly quicker now. The National Association of Realtors® Pending Home Sales Index shows that signed contracts – a measure for future home sales – increased 5.2 percent in October to 104.8, which is a five year high. Feel free to contact Tammy Chantall for a
West Palm Beach Real Estate Market Update
for your city.
West Palm Beach Real Estate Market Update