Testimonials
Home Property Management Inc. was founded in 1985 by Jim Breen and Todd Breen, to serve Palm Beach County property management needs. In 1993 the company name was adjusted to Home Property Management II, Inc. to accommodate a change in the company employee pension plan.
Why is this important? As a consumer you will frequently see a business claim '35 years experience', which may mean that one or all of their staff has a total of 35 years experience. What makes us different – is how long we've survived the ups and downs of different real estate markets, and endured to bring our clients excellent and reliable service.
Said another way – "Past performance is generally best predictor of future behavior"!
Reputation Reviews
"I have seen substantial improvement with Home Property Management over their past year. The progress is well appreciated and commend the work that has been done improving the rental oversight support required. I am very satisfied with the property management and the manager. The direct notification for rental repair request and completion is a substantial upgrade. Keeping the owner updated with the status of the property. When the situation arises I have found quick turnaround communications with my Property Manager. Who quickly responds to my requests in a quick, courteous informed manner. I highly recommend Home Property Management."
- Eugene Espensen
Letters
Read what our clients have been writing to us … since 1985! Other video testimonials and reviews can be found throughout our website and all are in accordance with our Testimonial Policy.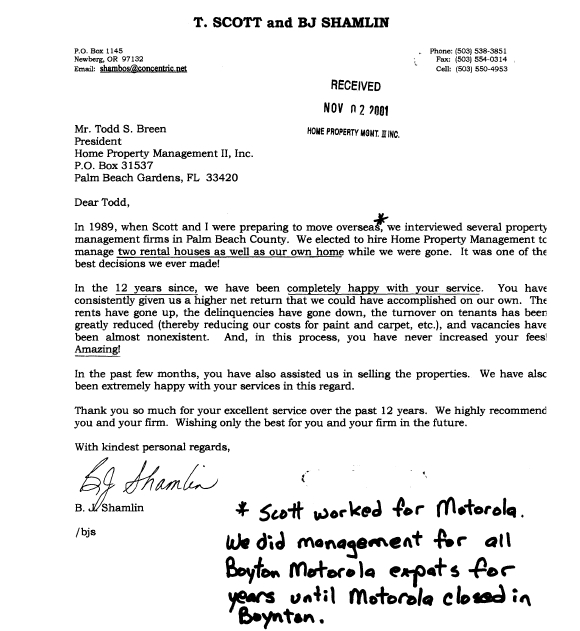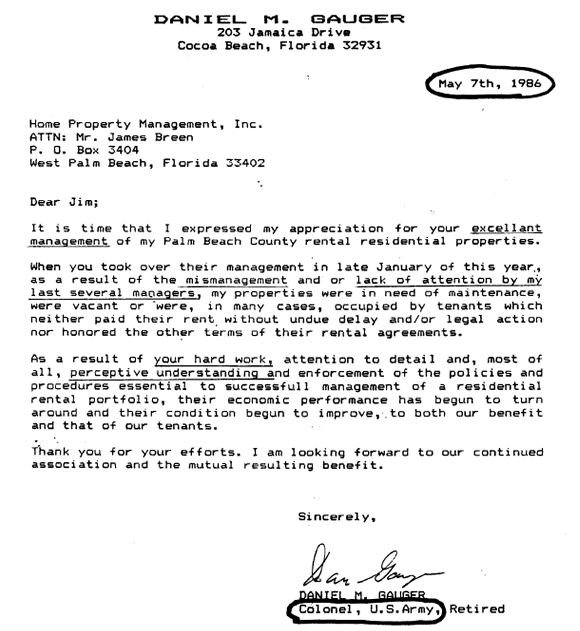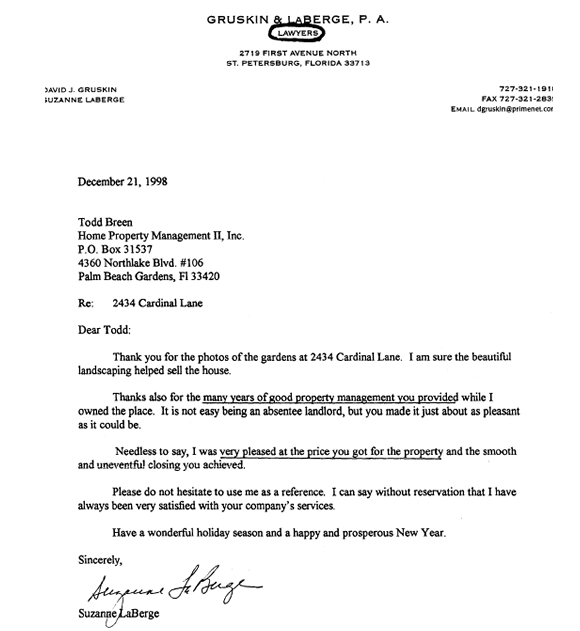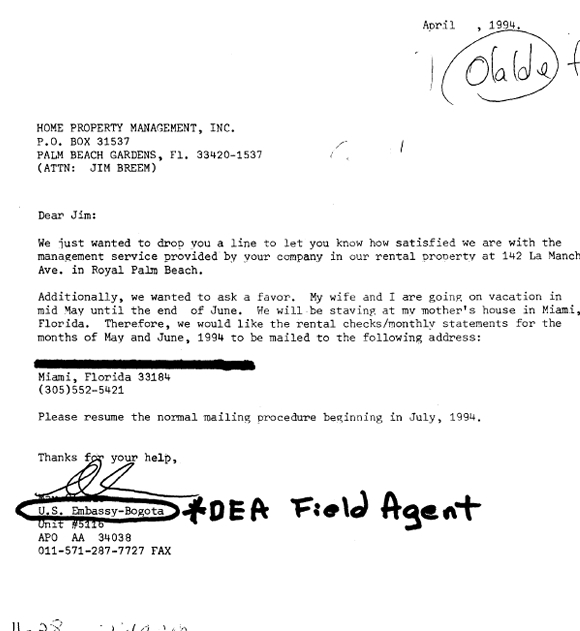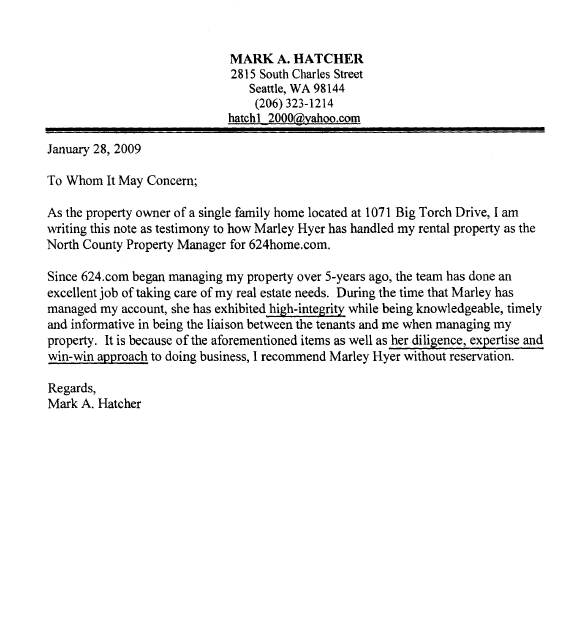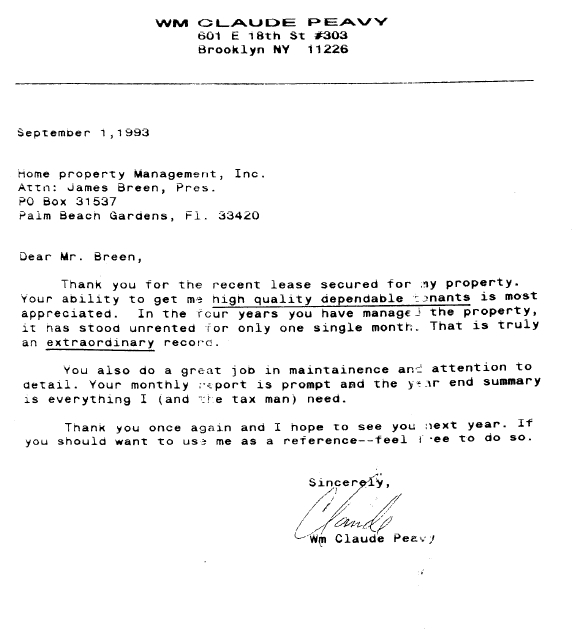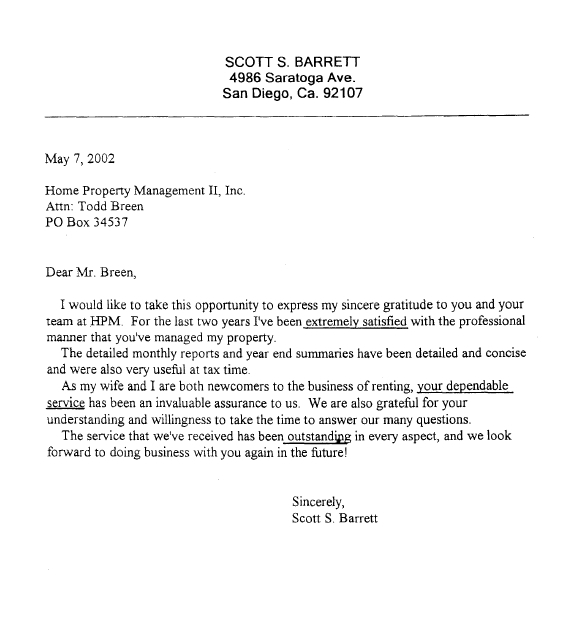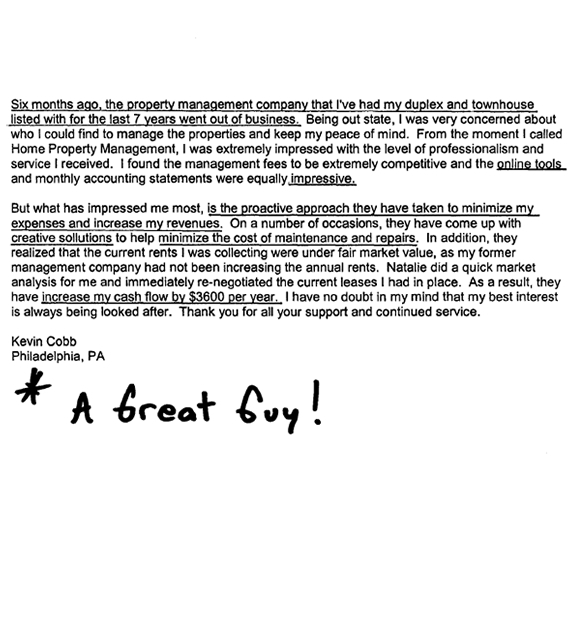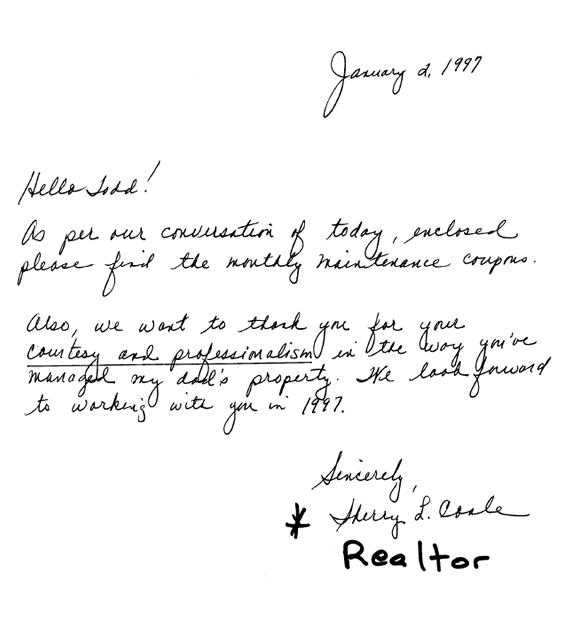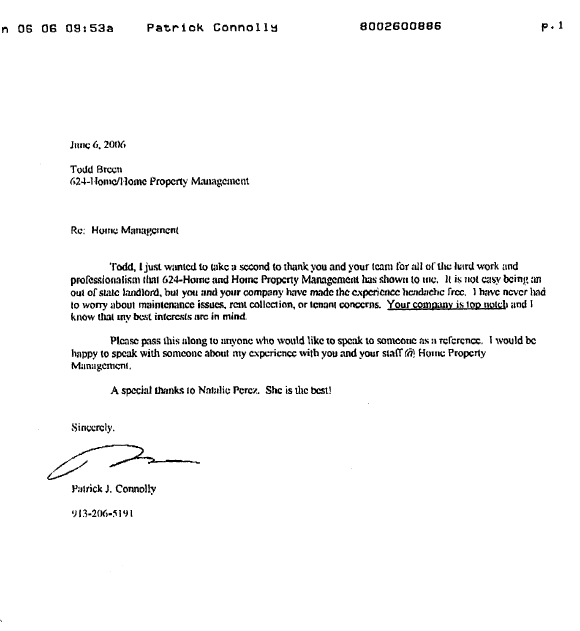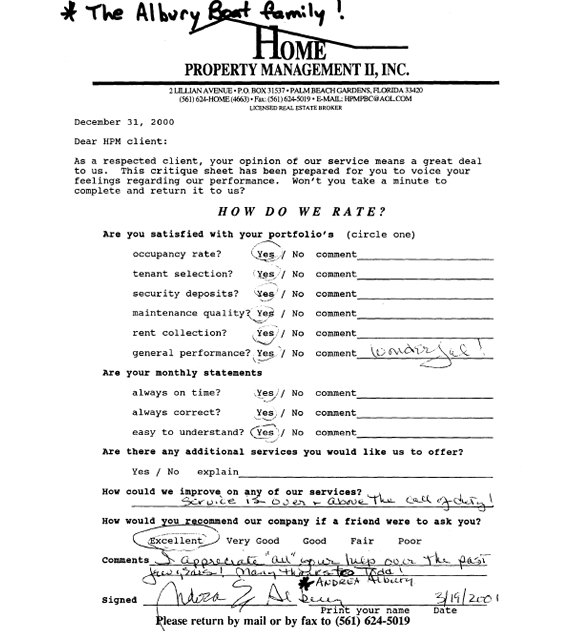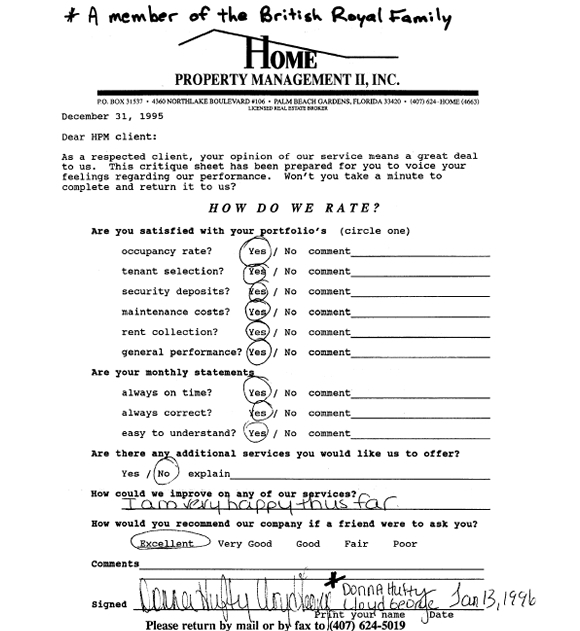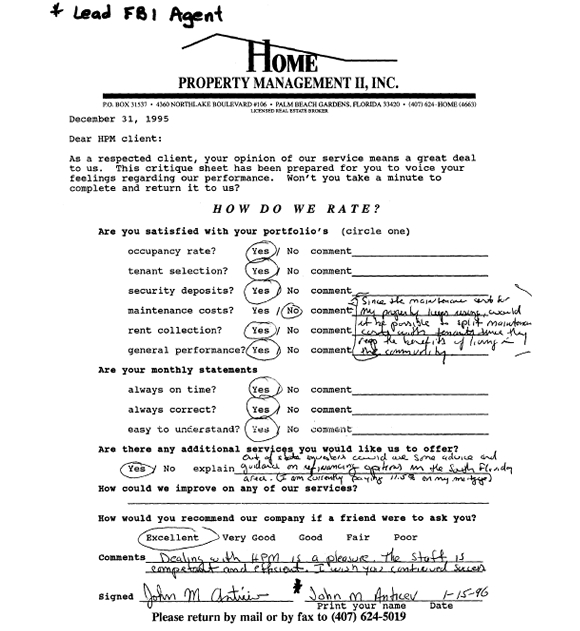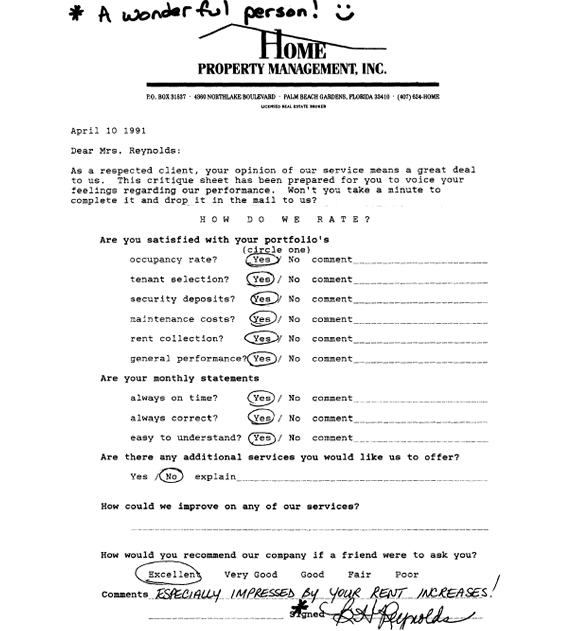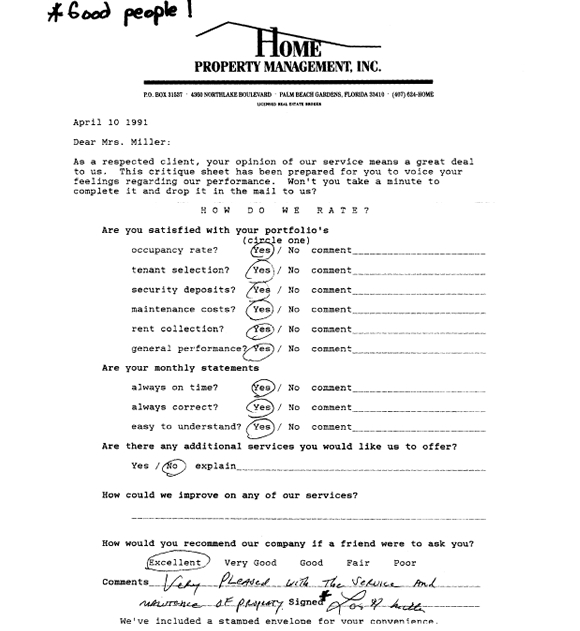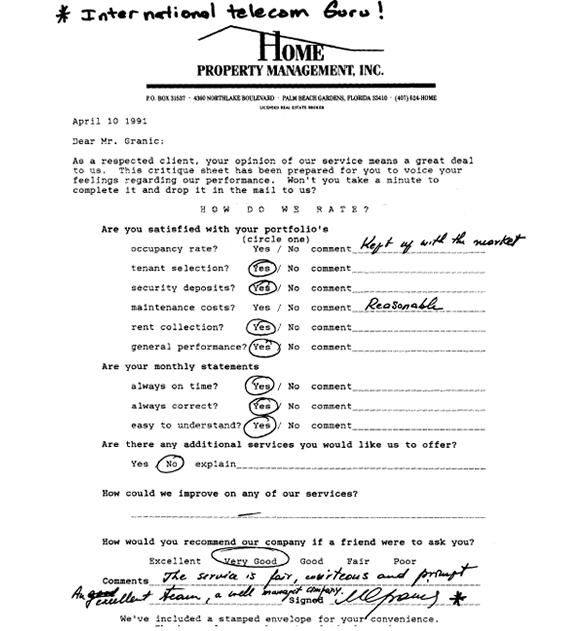 Email From Kevin McKenzie May 2010
"Owning a 32 unit apartment complex in South Florida while living and working in North Carolina has been challenging for the past several years. Probably the best indicator of the size of the challenge is the number of property managers we've employed – five in less than five years.
Having run a manufacturing business for over 15 years you could always tell how the business was performing simply by walking through the plant. Unfortunately, we lacked this sort of feed back with our apartments. At best, we have visited the complex once every year or two and were able to see interiors of only a few vacant units during those visits. Out of sight – out of mind became our operating model and that approach has taken a terrible toll on the both the condition of the building itself and the tenant base.
After an exhaustive search of professional property managers in the area, my partners and I elected to give total responsibility to Todd and Home Property Management for turning our property around. HPM offered several unique management tools that their competitors did not. As a result of our previous errors, we had learned not to assume "all was well" with the condition of the property based on conversations with the property manager. For this reason we were especially motivated by the property videos that HPM offered. We now receive timely emailed links to videos of every vacated apartment, every freshly renovated apartment as well as videos of landscaping/exterior changes made or proposed. It's as close as you can get to being on site and seeing it with your own eyes.
I'm certain that it's a powerful tool for Todd or any other property manager as well. It has always been too easy for me to dismiss a description of a problem as an "exaggeration". It's far more difficult to hide from a problem when it's clearly framed in a video. Videos also make it easier for my partners and I to get on the same page together on an issue too. As the managing partner I no longer have to rely on my ability to "sell" the others on an issue. The video says it much more clearly than I could ever describe it."