As real estate investors since the 1980s, we have followed the market each year deciding when to buy, sell, or rent properties. Hear what we think about the current sales and rental markets in the area.
Median Days on Market in Palm Beach County
Looking at the 3-year trend, when you see median days on market trending down it is a sellers' market. That is what we began to experience at the beginning of the pandemic when the days on market was free falling. The resulting limited inventory led to crazy bidding wars on houses.
In June of 2022, the time on market started to change direction with an aggressive uptick. Right now, days on market is around 70 days as it levels out to a more normal, pre-pandemic level. Now with sales slowing, we take each offer more seriously because we don't know when the next one will come along.
We are currently in a balanced market that is leaning closer to a buyers' market.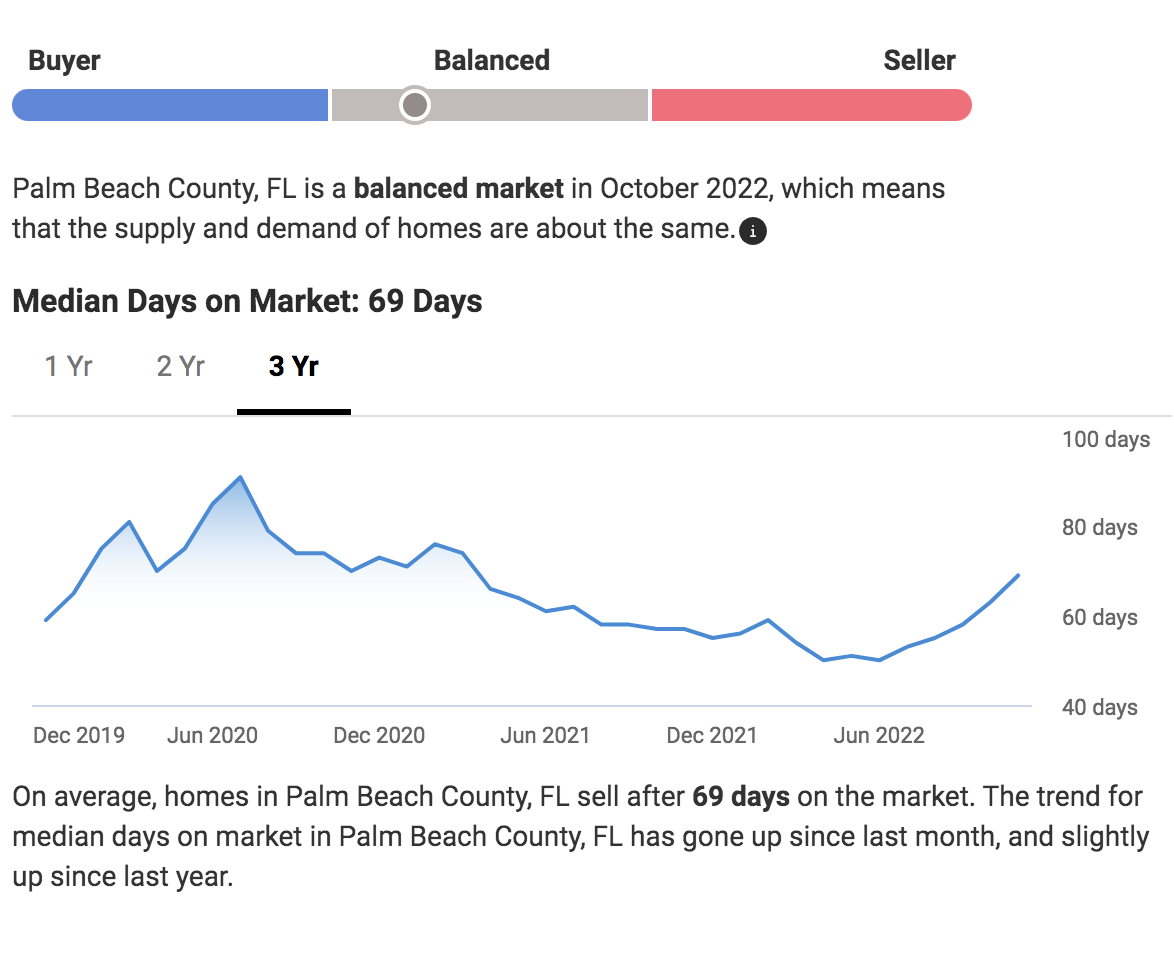 Source: https://www.realtor.com/realestateandhomes-search/Palm-Beach-County_FL/overview
Median Days on Market in Martin County
Martin County is experiencing the same trend as Palm Beach County, although average days on market is slightly less at around 60 days.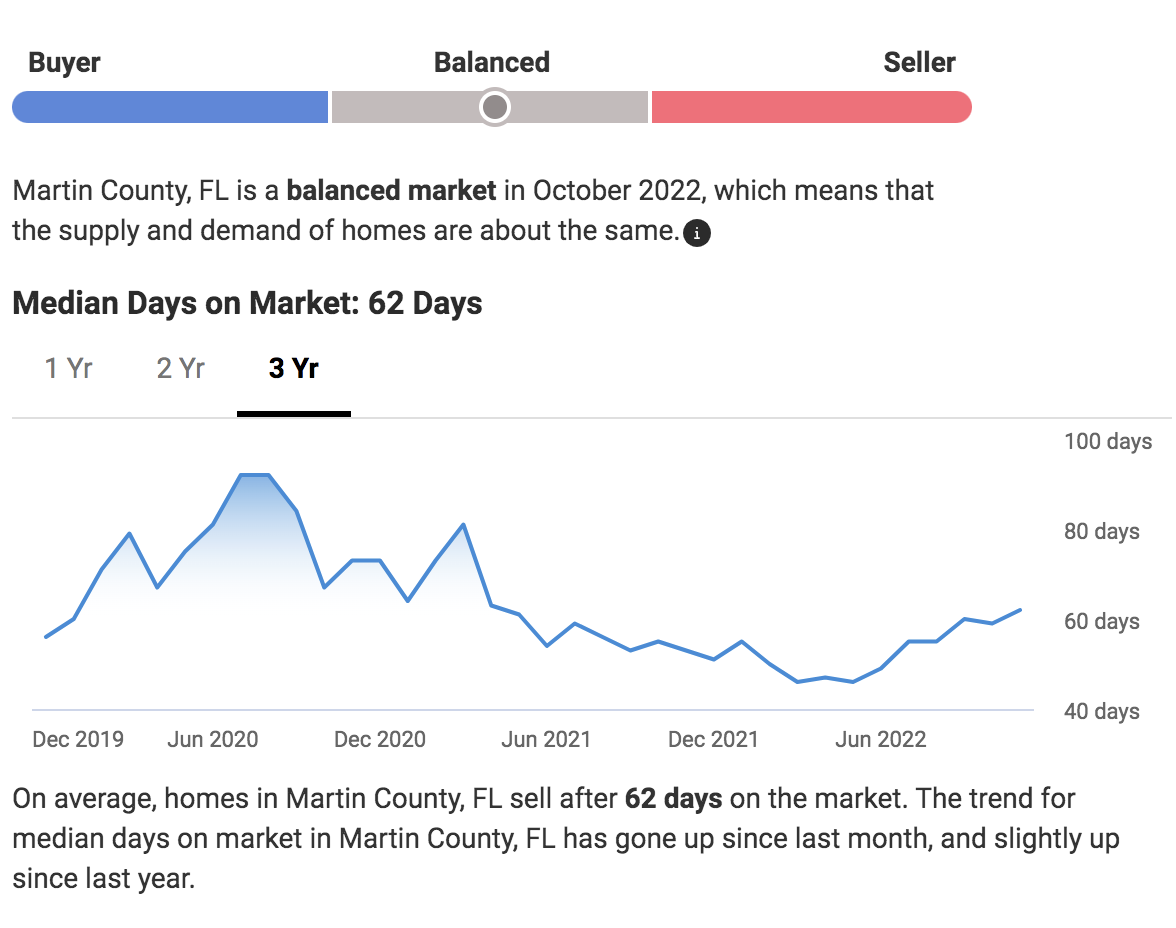 Source: https://www.realtor.com/realestateandhomes-search/Martin-County_FL/overview
Palm Beach County Rental Market
Because we are no longer in a sellers' market, many people can't afford to wait the 70+ days to sell. Renting out the home might be the better financial option for some. Here are a few points to note about the current state of the rental market in the area.
Low End Rental Market (under $2500/mo)
Because there isn't a lot of affordable housing in the Palm Beach County area, these properties will continue to rent quickly. Rent rates would be slower to decrease due to this demand.
Mid-Range Rental Market ($2500-$4000/mo)
There is inventory available, and these properties are rented in 25 days on average.
Higher-range Rental Market ($4000+/mo)
Rent rates are starting to decrease for these properties, and days on market are increasing in a way that almost mirrors the sales charts.
Learn some tips to getting your rental property filled quickly in our article "How long will it take to rent my Palm Beach County rental property".
How do I sell a property in this market?
A strategic option is to list your home for sale in addition to listing it for lease with an option to buy and see which one happens first. This can help reduce the time the property sits vacant. You can market the home while you have a tenant. We have done that successfully ourselves for decades.
Possible driving factors for the coming changes in rent-ability and sell-ability?
Stock market and Cryptocurrency markets are down.
The influx of new people moving to FL has slowed down which has reduced demand on housing.
Low end rentals remain scarce which could allow rent rates to stay where they are or slightly decrease.
Middle/High end rentals might start to experience a softening in rates as they may have hit a maximum high during this period. You need a significant number of high income earners in the area that can afford the higher end properties.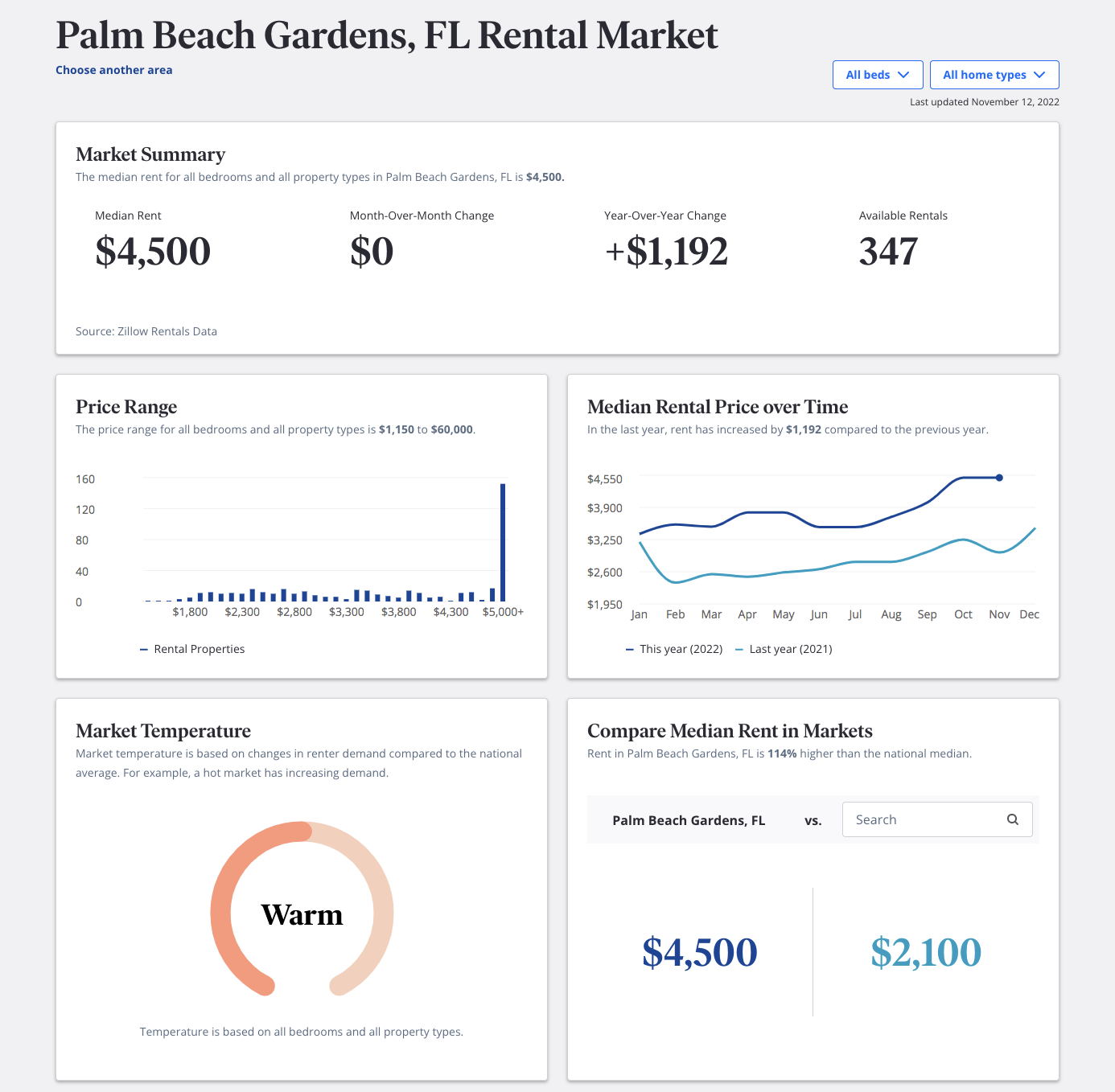 Source: https://www.zillow.com/rental-manager/market-trends/palm-beach-gardens-fl/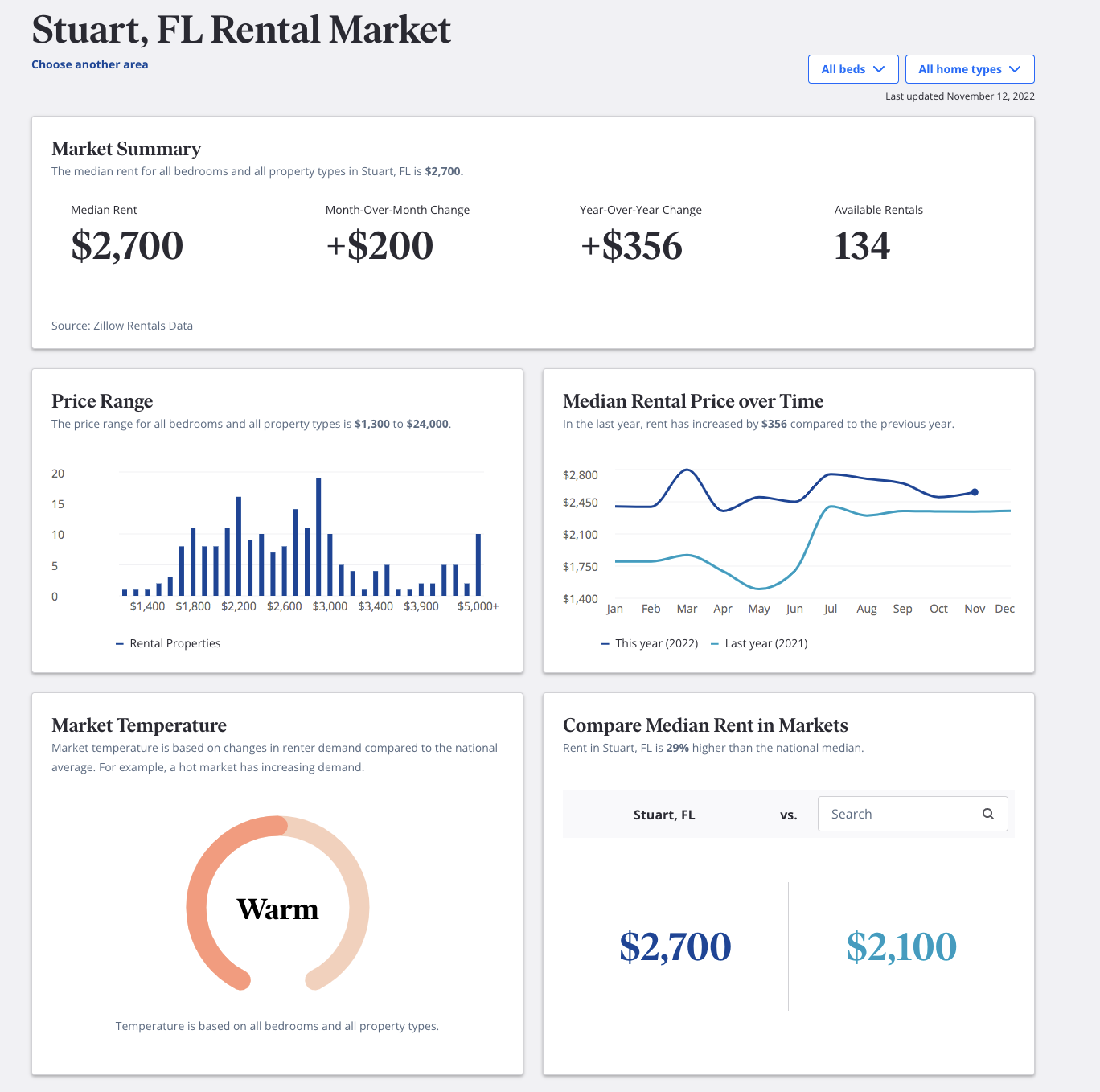 Source: https://www.zillow.com/rental-manager/market-trends/stuart-fl/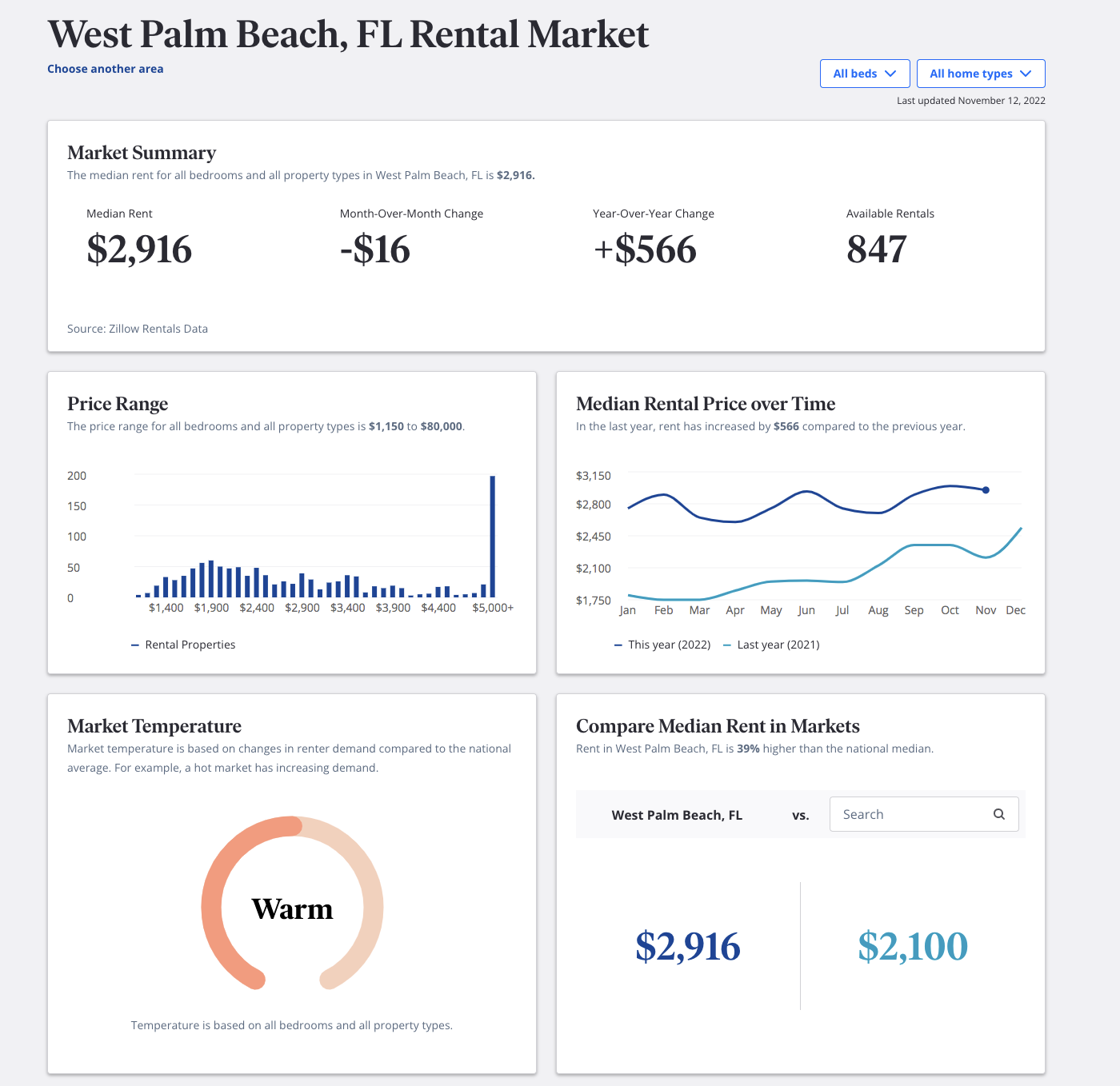 What should you do with your property in this market?
If you are struggling to decide what to do with your property, contact Home Property Management today for up-to-date market stats and advice.
We have decades of experience in buying, selling, and renting in the Palm Beach County and Martin County areas, and we can help solve your property problems. We have a 24/7 call center available to answer calls that come in to help you get your property rented faster.
Find out what your options are by contacting us today. We look forward to hearing from you.